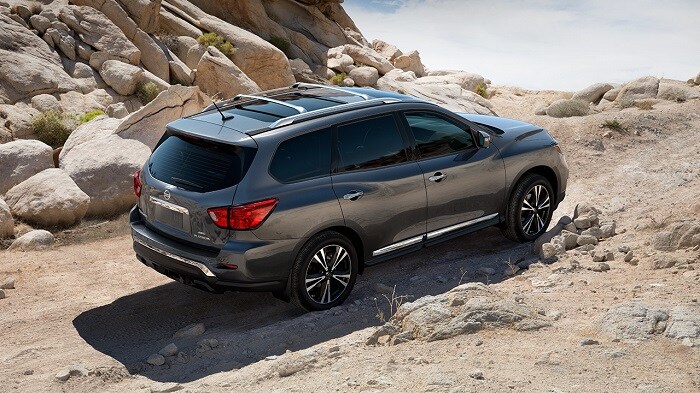 At Sunridge Nissan, we're always working to ensure that every Calgary driver is informed about the vehicles they're driving. When you're shopping for a new vehicle, it's important to know what you're looking for. One of the most important considerations is the difference in drivetrains.
For example, what's the difference between 4WD and AWD?
The Pros and Cons of 4WD Technology
This decades-old drivetrain has been helping cars and trucks get to off-road destinations of every variety. Four-wheel drive, or 4x4, transmissions operate on a simple principle. The drivetrain is turned on manually by the driver when they need it, in conditions such as gravel or rough roads or even off-roading conditions. That means vehicles like the 2018 Nissan Pathfinder can get into and out of any location you can dream up.
4WD vehicles may have little trouble with traction, but they sacrifice direct control in favor of capability.
AWD, the New Kid on the Block
Developed recently in comparison to 4x4 transmissions, all-wheel drive vehicles like the 2018 Nissan Rogue are made to be smarter and offer more hands-on control. AWD systems are perfect for unpredictable weather and handle nicely in slick road conditions.
All-wheel drive systems are always working to transfer power to the wheel getting the most traction at any given moment. Unfortunately, this intelligence sacrifices some of the force of 4x4, meaning AWD vehicles aren't as good in off-road situations.
You Can't Go Wrong With Sunridge Nissan
Whether you're looking for raw power or precise control, Sunridge Nissan has something to satisfy your needs. No matter what kind of driving you need to do, there's a Nissan vehicle that will get the job done.
It's time to get excited about driving again. One of the awesome cars, trucks, or SUVs at Sunridge Nissan can become your gateway to adventure. Just stop by our Calgary showroom today and let one of our knowledgeable sales associates show you around.