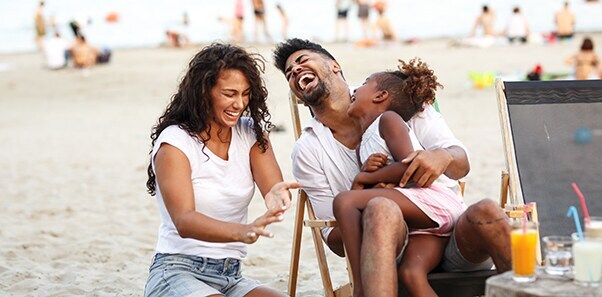 This summer you'll probably want to go on a few road trips, and sometimes nice water is hard to find; but did you know there's some great beaches right in Calgary you can drive to for the day? These beaches are a great place to take your family for a BBQ, picnic, or just to swim for a few hours. Here are the top beaches in Calgary:
Edworthy Park
Edworthy Park, located at 5050 Spruce Dr SW, is along the banks of the Bow River. It's full of great picnic areas, playgrounds and BBQ area's; and you'll find a winding array of interesting hiking trails to explore. There's a stone beach and you can swim in the refreshing waters of the Bow for hours. The river has a bit of a current, especially during times of high rain or snow melt, and water levels can be high, so you'll want to be careful to watch young children and ensure they are safe around the river.
Bowness Park
Bowness Park is located at 8900 48 Avenue NW. It is a little upstream from Edworthy Park, and is another great place for picnics, and there are playgrounds to entertain children. The "beach" is not super well defined, but there are shallow river area's to swim and play in. Lots of people enjoy floating down the Bow river in rafts over the summer, and this is a popular launch area for small inflatable watercraft. These floaters then float along and exit the river around downtown, or by the Calgary Zoo.
Sandy Beach Park
Another popular launch location is Sandy Beach Park along the Elbow River. As the name implies, this beach is actually, well, sandy (to an extent). It's a popular place for families with young children, dogs, and river floating rafters to take in the summer months by the water, and might just be one of the nicest beaches in Calgary. Sandy Beach is located at 4500 14A Street SW.
Sikome Lake
Sikome Lake is easily the nicest public beach in the city, and unlike our other river front beaches, this one surrounds a man made lake in the cities Southeast. Sikome features the sandiest beaches in Calgary, and although the lake has been criticized for being a bit unhygienic, there hasn't been a water contamination issue in two decades, and a host of people work throughout the summer months to maintain the quality of the water – so you'll be swimming to your hearts content.
Community Lakes
There are a number of lake communities in Calgary, and these far and away offer the best beaches in town. The lakes are stunning, the beaches are sandy, and the surrounding park area's usually offer waterfalls, BBQ areas, and playgrounds as well as shallow kiddie pools. They are often stocked with trout and perch, and fishing and boating are always in vogue. Unfortunately, you can't get into these lake area's unless you live in the community, or know someone who does and can convince them to let you join them. These residents pay annual fee's to be part of the lake associations.
Chestermere Lake
To enjoy the wonders of Chestermere lake, you'll have to venture a bit out of the city, but it's close enough that it's worth the trip. Just a few minutes East of Calgary, the beautiful Chestermere Lake offers motorized boating with boat launch facilities, non-motorized boating, fishing, picnic and BBQ area's, and there are a few public beaches with dedicated area's for swimming.