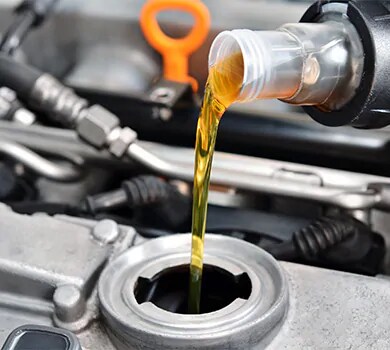 Getting your oil changed regularly is essential to keep your vehicle purring like a kitten. You should service your oil and filters about ever 8,000km, and doing this will reduce engine wear and corrosion, help keep your engine components cool, and protect against engine wear particles and sludge. Getting an oil change regularly will meet the industry specifications for your vehicle, and does a great deal to extend the overall life of your engine. Your cars owner's manual will have the exact maintenance specifications for your vehicle.
Our Nissan trained technicians change oil for all makes and models daily, using factory recommended synthetic or conventional oil, and Genuine Nissan oil filters on Nissan vehicles. We also take the extra step of completing a complimentary, multi-point inspection to make sure everything else is in good working order.
Getting your oil changed by a professional only takes about thirty minutes, and getting professional service will make sure every step is done right, every time. Here's what the process looks like:
We check your vehicle's maintenance specs to see what oil viscosity and filter is required to do the job. In the old day's oil filters were basically all the same, but not anymore, and if your manual recommends extended oil change intervals, it's important you use a filter that's properly rated for the additional mileage.
Once we've identified all the components needed for your oil change, we remove the drain plug from the underside of your vehicle, and get the old oil flowing so it can be disposed of properly. We remove the oil filter and install the new one. Next we install a new gasket on the plug. Finally, we top up all your fluids and perform a comprehensive safety inspection of your vehicle to make sure your next trip is a safe one.
You'll want to check your oil regularly, about once a week. If you have an older vehicle, your car, truck or SUV might burn oil and you'll have to top up your oil in between changes. Gasket leaks can also cause your vehicle to leak oil. Be on the lookout for traces of oil on your driveway, or in your garage to make sure your car doesn't have problems retaining oil.
To check your oil, wait until your vehicle is warm and level with the ground, then stop the engine and wait a few minutes for the oil to settle. Remove the dipstick, and wipe it clean. Next, push the dipstick all the way back in, pause for a moment, them withdraw the dipstick, being sure to point it downward so the oil doesn't run up the shaft. The oil level should be between the two marks. To finish, return the dipstick fully into its receptacle.
Changing your oil at home requires that you jack up the vehicle and get under your car. This can be dangerous, so it might be a good idea to leave changing your oil to a professional and get the added safety inspection as well.
Sunridge Nissan offers complete oil change service, including oil and filter change, as well as a courtesy vehicle inspection. It takes less than thirty minutes and is cheaper than you might think. Even better, there's no appointment necessary, so come in to get your oil changed today, and find out how our commitment to customer service is at the top of the list in Calgary.