Whether you need to put on new tires, replace old ones, rotate your tires or just repair a leak, Sunridge Nissan in Calgary is here for all your tire repair needs.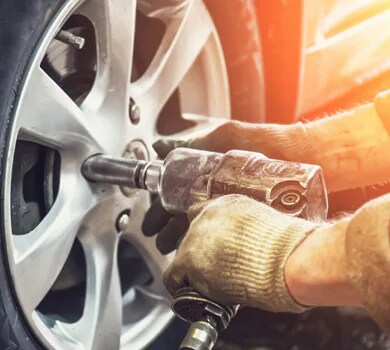 Our Calgary Tire Shop

The only thing connecting your vehicle to the road are its tires. With such an important job, properly installed and road-worthy tires are crucial for a safe drive. Good tires give you the traction, agility, and responsiveness you need - when you need it. Our Calgary tire shop offers regular, performance, all season, all weather, and winter tires for sale including popular brands trusted by millions. We also offer all the tire repair services you'd expect from one of Calgary's top tire shops, like tire repair and tire rotation. At Sunridge Nissan, we believe in maintaining your vehicle right, and doing it with a smile. Great customer service is at the heart of your tire repair service experience, so come in, relax in our waiting area and have a complimentary coffee on us.
Whether you're in the market for performance tires, or just need to keep your tires in tip-top shape, our tire shop offers complete tire installation and repair. Book tire repair service with us today.
---
Tires for Sale

We have new tires for sale, including regular, performance, all season and all weather tires in all popular brands.

Tire Replacement

Whether you've got some new tires to put on, or are making the switch for winter - we'll swap out your tires quickly.

Flat Tire Repair

Got a flat? Oh no! We'll have you back on the road quickly by cost effectively fixing leaks and abrasions in your tires.

Tire Rotation
Tire rotation improves tread life and eliminates uneven wear. You'll be sure to grip the road and improve your gas mileage.

Tire Installation

We'll install your tires quickly and at an affordable price, customer satisfaction is what we strive for. 

Our Commitment to Great Customer Service
At Sunridge Nissan, great customer service is our top priority. We want to give you the best service possible because you and your vehicle deserve to be treated with care, and respect. You'll notice our commitment to customer service the moment you pull up to get your tires repaired.